A social media influenced identified as Lady Motara has apologized after she was called out yesterday over what she did to an underaged girl who was begging her for money along an express road.
Motara took to her Twitter handle to apologize over how she treated the young beggar after she received backlash from social media users.
Social Media users insulted Morata for teasing the young beggar with a bottle of an energy drink which she was sipping while driving.
Motara revealed that she made the video and shared it on her WhatsApp story because she thought it was funny.
She however said that she realized that her actions were extreme and she had to take down the video after she was called out for her stupidity.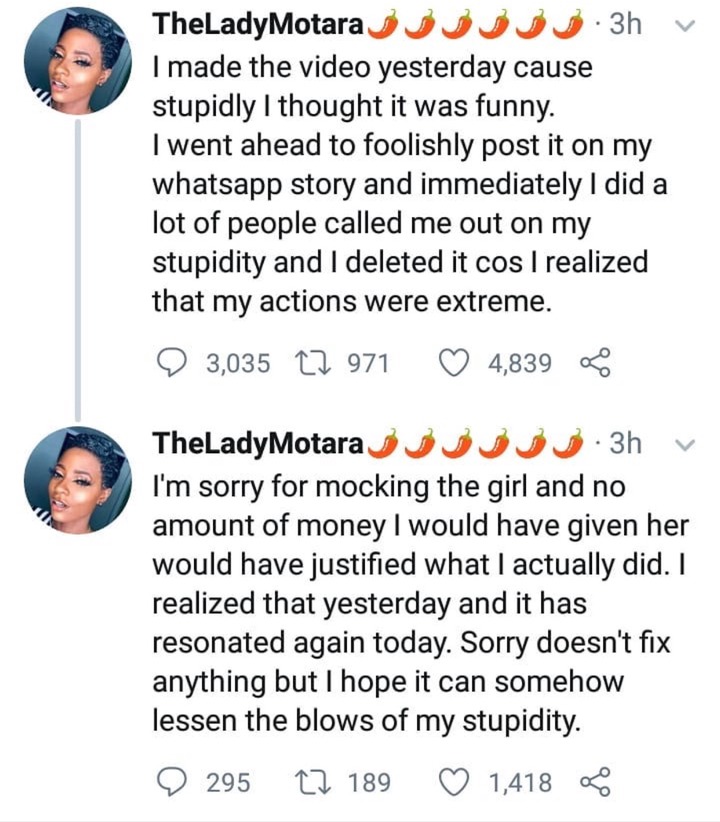 In the video which went viral on social media, the influencer who was making fun of the young beggar, was seen making a mockery out of the girl by giving her a drink without winding down her car window.
The young beggar even had to keep chasing her car thinking she was going to give her the drink but she laughed at the beggar and drove off after seeing a soft drink hawker approaching her.
Watch the video below;