A man has been arrested in Lagos for beating up and assaulting an officer of the Lagos State Traffic Management Authority (LASTMA).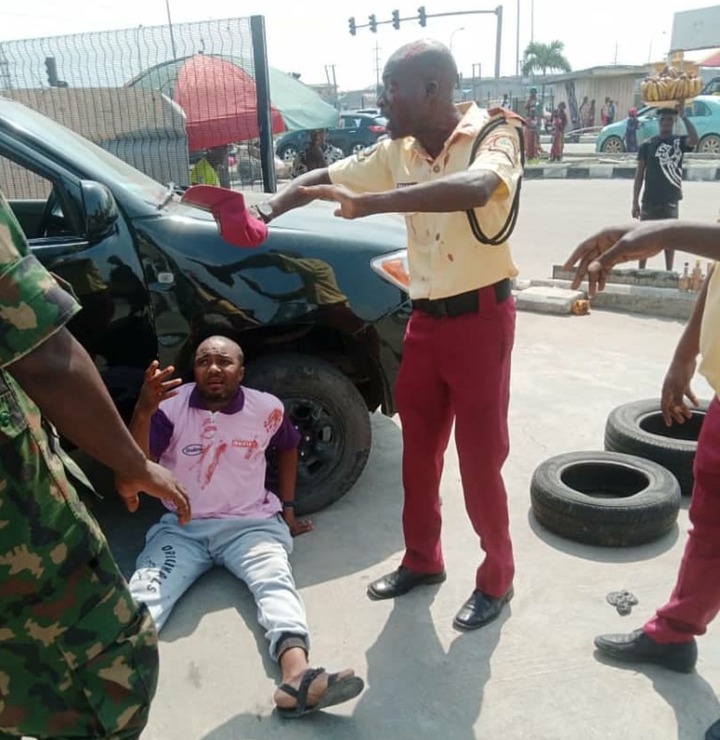 The man identified as Emmanuel Ben was arrested after he assaulted officer, Ismaila Lukman who was on his duty post at the Jakande junction in Lekki, Lagos state.
He was arrested following the directives from the Lagos state commissioner for justice, Omoyosore Onigbanjo who stated that the culprit, Mr Emmanuel Ben must be made to face the wrath of the law.
The LASTMA officer was assaulted on Sunday 8th November, 2020 around 2pm by Ben while he was controlling traffic at Jakande junction.
According to reports, Ben approached Lukman and asked him to stop moving cars in order for him to cross the road even with the presence of a pedestrian bridge around the area.
It was reported that Ben proceeded to step into the carriageway in front of moving traffic causing disruption to traffic flow.
An eyewitness reported that Lukman asked Ben to leave the road but Ben threatened him saying that LASTMA officials would be chased off the road like the police. He the proceeded to attack Lukman, hitting him on the head with a metal, which caused Lukman to sustain injury on his head that led him to bleed seriously.
Eyewitnesses also reported that two unidentified passersby joined Ben to assault the LASTMA officer.
Ben is currently at the Ilasan police station, waiting for prosecution after he was arrested with the help of a military patrol and the police.
In a video, Ben can be seen sitting on the floor trying to explain himself after the soldiers must have dealt with him.
Watch the video below;